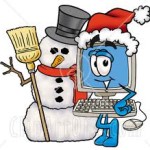 'Twas the holiday season and all through the house,
Not a creature was clicking, not even your mouse.
The stocking were hung by the "Windows" with care,
Glad that Win 7 was finally there!
My clients were sleeping, all snug in their beds,
While visions of Microsoft danced in their heads!
Elf Karen has taught you that ACT can be fun,
And the software you need for your business to run.
It's a great way to keep track of customers, prospects & friends,
Make notes, send e-mail – the list never ends!
But this poem was written for one special reason,
To wish you a joyous holiday season!