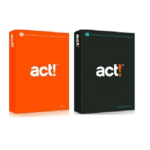 I've been personally using Act! Premium v19 for my own production database since it came out earlier this month and feel that Act! v19 is "ready for prime time." However, there are still many Act! users of prior Act! versions who have not as yet upgraded to Act! v19. My e-mailbox has been flooded with questions so I'd like to take this opportunity to answer a few of them.
I am an Act! subscriber; how do I get my Act! Premium v19 serial numbers? The great thing about being an Act! Subscriber is that your serial number will remain the same for all Act! Premium versions. You can download the Act! Premium v19 software from the Act! download center. If you are a user of Act! v19 Pro you will need to obtain new licenses numbers.
Will I lose my customizations? Absolutely not! However, I strongly advise that you make a backup of your database which will include all of the field changes, layouts, templates and reports that you may have created. Forgot to make a backup? No worries. Even if you do not create a backup, your various customization will remain firmly intact once you open your database in the new version.
Will Act! v19 work with Outlook 365? I am happy to answer this question with a resounding YES! Prior versions of Act! only worked if your version of Office was installed in 32-bit mode. Act! v19 will work with Office in 32 and 64-bit mode, as well as Office that is installed using the "click to run" method.
Do I need to uninstall my existing version of Act! prior to installing v19? If you are currently using Act! v18 there is no need to uninstall your existing version of Act!. Act! v19 will remove Act! v18 as part of the installation process. However, I you are using Act! 17 with SQL 2008, or Act! versions v7 – v 16 you will want to remove both your current version of Act! and SQL before installing Act! v19. Although this may sound a bit scary and technical, rest assured that a trip to the Programs area of the Windows Control Panel is all that is required; uninstall Act! and uninstall all the SQL components starting from the first item and working down to the bottom item.
Is there anything else I should know before installing Act! v19? Prior to installing any new software it's always a good practice to reboot your computer just in case there are some Windows updates that need to be applied. Once rebooted, it's a good idea to temporarily turn off User Account Control, your firewall software and your anti-virus software for the duration of your installation.
 If you have additional questions about your Act! software you might want to take a look at the Act! Knowledge Base where you will also find the answers to your most frequently asked questions! And remember, if you purchased your Act! subscription from Tech Benders our Act Consultants will be happy to answer your email questions for free!