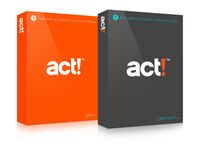 We're excited to announce that Act! v18.2 is now available!  If you are an Act! Premium subscriber, you are entitled to receive the latest Act! Premium updates and enhancements as they're released.  If you are currently on Act! v18 Pro some of the new features (specifically those that focus on the web.api) do not apply to you; however, you'll still want to take advantage of the quality and performance improvements.
What's New in Act! 18.2

The all-new Act! Connect Link delivers the power of the Act! Connect integration platform to Act! Premium desktop users with no complicated setup – simply install and go!
New Act! emarketing enhancements give the Act! Administrator more user-specific features.
Additional security options for Act! Premium Web API expand administrative control.
Act! Premium for Web usability enhancements include new customization & management options for Opportunities and ContAct!s.
Dozens of performance and quality enhancements to enhance your Act! experience. See what else is new
Updating to Act! Premium 18.2
We highly recommend that updates are done by Act! Administrators to ensure any shared databases are updated successfully. The best prAct!ice is to update the server and then update the database directly on the server before updating individual workstations.  You can learn more about the upgrade process from this Knowledge Base article.

Act! v18.2 Full Download links:
Act! Premium v18.2 (Windows®): Act!prem_v1820x43_EN.exe
Act! Premium v18.2 (Web): Act!web_v1820x53_EN.exe
Act! Pro v18.2: Act!pro_v1820x53_EN.exe
Looking to purchase Act! v18?  Check with us to get Act! as discounted pricing.  Need help upgrading?  Give one of our Act! Consultants a call!