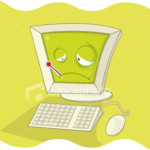 So, you've purchased an upgrade to ACT and you're ready to install it. Sounds easy, right? Sure it is – if you've got your ACT together! Here are some tips to help you with your Act Database conversion.
Here's a few hints that will help speed you on your way:
Make an Act backup! You probably won't need it but it's always better to be safe than sorry.

Uninstall

your current version of ACT. You'll also want to remove

SQL

as well. I find the majority of installation errors are SQL errors, and not Act errors

.

Temporarily close down any firewall or anti-virus software that is running on your machine. Turn off the Windows UAC (User Account Control).These programs are designed to prevent unauthorized software from being installed on your computer – and will often prevent ACT from installing properly.
Make sure that the version of Office that you intend to use is installed. Act will search to find your version of Office. If you later decide to upgrade Office you will have to reinstall Act.
Reboot your machine. ACT may need to tweak some of Microsoft services on your machine and will have trouble identifying what you need if you have any Windows updates pending.
Shut down any

SQL

instances that might be running. ACT runs on a form of

SQL

;

ACT's

instance of

SQL

will not install if another instance is running.
Open your existing database or restore your backup. Answer "Yes" when Act asks you if you want to update your database. Note that all of your customizations will update as part of the process.
Set the Act scheduler to do daily backups and weekly maintenance. Just like your car, Act needs an occasion bit of TLC to continue to run properly!
The above instructions will work with any Act database from Act 2005/v7 to the current versions. However, older versions of Act including Act 2000 and Act 6/Act 2004 will need a bit of extra attention. If you're having trouble with your Act Database Conversion please contact Kim, our Act Database Conversion and Act Database Repair specialist!