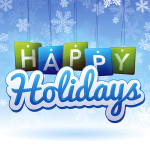 A recent survey conducted by the American Research Group, Inc. showed that Americans were planning on spending an average of $861 on gifts for the 2014 holiday season. This number has increased by 8% compared to the 2013 holiday season and experts agree on the fact the online shopping will continue growing. And according to a survey from CreditCards.com, 75% of Americans have made an impulse buy during the holiday shopping season. This same survey showed that a third of these purchases were over $100.
Both studies show that Americans spend more during the holiday season and are more likely to purchase products without necessarily researching these items. The holiday season provides businesses with an amazing opportunity to attract new customers. People are in a buying mood and you can expand your clientele if you make sure shoppers have a positive experience while shopping with you.
A good CRM (Customer Relations Management) system is a must-have tool if you want to properly manage the increasing number of orders and make sure every shopper has access to quality customer service. Your CRM system can also be used to generate interest in products and stay in touch with prospects who are not quite ready to make a purchase.
Holiday uses for CRM include collecting data on new customers and prospects. You can easily customize your Act! software to track information about your customers' demographics, their shopping preferences, the products they might purchase in the future and their contact information.  Collecting data on new customers and prospects, and connecting with them on social media or via email, gives you the possibility to share content with them throughout the holiday season and generate sales throughout the coming year.
A good CRM system allows you to automate your communications with potential customers. You can use this to your advantage  to generate or maintain interest in a product. For instance, a potential customer who purchases one item might decide to buy another product that you offer after receiving a personalized promotional email that features a deal on this item. If you want to generate impulse buys, focus on creating quality content that will get your target audience excited since the survey conducted by CreditCards.com showed that 49% of impulse buys are motivated by excitement.
The right CRM system can make a real difference during the holiday shopping season. You should contact the Act consultants at Tech Benders if you need a CRM solution adapted to your needs or want to learn more about CRM systems.