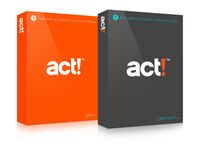 Are you still running an older version of the Act! software? Maybe you've thought about upgrading to a newer version, but were not sure it would fit into your budget. Act! is much more affordable than you might think, especially when compared to other solutions such as Salesforce. And Tech Benders will insure that you purchase the correct Act version at the best possible pricing. We sell discount act software.
The latest version of Act! Premium is v19. Here are some key features of Act! v18 Premium to consider:
Compatible with Windows 10 and Office 2016.
Works with both Chrome and Internet Explorer 11 browsers.
Comes with a free Act! E-Marketing Account that includes 500 contacts.
Includes an array of new E-Marketing features for administrators.
Connects to business productivity tools via a new web API platform.
Increased ability for administrators to choose who receives access to various components of the software.
Keep better track of Contacts with the new Favorite Contacts check box.
Stays up to date with the latest compatibility updates
Includes free, unlimited tech support
Cloud computing is very popular today and the Act v19Premium software supports it. And, unlike other CRM solutions, you have the option of choosing your hosting provider.  If you are up to the challenge you can even host your own Act! database.  Using Act! v19 Hosted has the following added benefits:
Keep connected with your users regardless of location.
Ability to see your data on smart phones, tablets and browsers.
Are you a single Act! user or part of a small organization that doesn't need some of the features mentioned above?  You might consider purchasing Act! v19 Pro which is ideally suited for smaller companies and does not require a yearly subscription.
To ensure that you are obtaining the correct Act! software for your business needs at the discounted prices we offer, contact us. We will answer your questions about pricing and the various products offered.