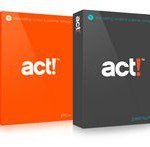 We're really excited about this version of Act! because it adds  new features designed to make you more productive in less time.  But don't just take our word for it – see it yourself!  Go to my
You Tube Channel
for video demonstrations on all the features.
Act is available in a number of versions:
Act v18 Pro:  for single users or small groups who don't require remote access
Act v18 Premium Subscription:  for users with remote access needs.  Your subscription includes tech support and requires a yearly renewal.
Premium Perpetual:  for users with remote access needs.  Your purchase includes one year of tech support and does NOT require a yearly renewal.
Act Premium Hosted: Need remote access or want a cloud based version of Act?  Ask us about Act Hosted options!

New Act v18 features include all the features that you love PLUS:
Free 500 Contact Act E-Marketing account
Compatibility with Windows 10
Compatibility with Office 2016
New Act v18 Premium features include:
Redesigned web interface
New web API functionality
Full Google Chrome support
Need additional information?  Check out our Act! Resources page!