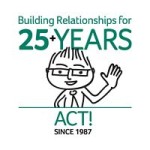 For all of you who are currently using Act! v17 – or thinking of moving to v17 I have great news:  Act! v17.1 is due to be released on Wednesday, February 25th.  This update is free to all users of Act! 17.  New features include:
Act! v17.1 Call List Improvements
You'll notice an expanded Call List tool bar that includes the option to:
Select and create Lookups from the entire Call List or user selected parts of the Call List
Create Activities for the contacts in your Call List
Create Histories for any of the contacts in your Call List
In addition the ability to delete old Call Lists that are no longer useful has been added to Act! v17.
Act! v17.1 Integration to other software
Act!/Google Calendar and Activities Sync Fixed
Act! will now Work with the Office 365 "click to Install" installations of Outlook
Act! v17.1 Automation & Productivity Enhancements
Link to a folder in the Documents tab
Improved accessibility on High Resolution Monitors making it easier to view Act! for Web from your tablet
Ability to send your Outlook contacts and activities to Act! from within Outlook
An Outlook synch log making it easier to track down the information that is synched between Act! and Outlook
Ability to remove or reorder the "Big Easy" buttons
Ability to remove the Universal Search bar
The ability to create a drop-down list "on the fly" as you create a new field.
The ability to change the duplicate checking criteria directly from the import wizard
The ability to change the default activity type from "Appointment;" this is a user and not a database preference.
Administrative notes that show up when a user logs into the database
Installations of Act! v17.1 will now install with SQL 2014 unless you are on the XP or Vista operating systems.  Note:  this update will not overwrite your existing SQL installation.
Customized Web Links that you create will be shared with ALL the users of your database.  Note:  any existing Web Link customizations will be overwritten by this update.
FAQs:
Do I have to update all of my users to Act! v17.1?:  No. This is an update that does not affect the "schema" of your database which means that not all of your users need to update.  Remote users can update their individual databases and still synchronize to the server.  In networked configurations the best practice is to update the database on the server rather than through local work stations.
How does SQL 2014 affect my existing installation?:  Act! v17.1 will automatically install SQL 2008 on an XP machine.  However, it will install SQL 2014 for new Act! installs on Windows 7 and 8 machines.  Note:  Although Act! 17.1 can work in a mixed environment of SQL 2008 and 2014 machines, the server needs to have the lowest version of SQL installed.
Where do I find Call List?  You can easily get to the Call List by clicking the E-marketing icon that appears on the Navigation bar that runs along the bottom left-hand side of any Act! view.  Act! users who subscribe to the Business Care program automatically receive the Call List functionality.  If you do not current subscribe to Business Care there is a $15/month fee for Call List.
For more information about Act please contact one of the Act! Consultants at Tech Benders!