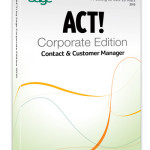 I know, I know.  Another year, another upgrade.  Upgrades can be expensive both in terms of money and time, but unfortunately they are a necessary evil of the computer world.
Some companies force you to upgrade every year or so.  For example, Intuit's tax tables will stop working when QuickBooks reaches a certain age, or you'll no longer be able to access your accounts online in Quicken after a year or two.  Sage takes a different approach with their new releases by trying to entice you to upgrade by offering a bunch of new "must have" features.  And of course, you'll be forced to upgrade if you change other aspects in your computer world; for example, users of Vista and Office 2007 found that their older versions of ACT simply wouldn't work.
Quite frankly, ACT 2009 didn't have a huge "wow" factor, although it did make significant changes in performance.  On the other hand, ACT 2010 has added several cool features that I really like:
The new Welcome Page includes things like instant access to search and links to your most common tasks.

The new Web Info tab automatically integrates your contact records with data from all the latest sites including LinkedIn, Facebook, and Google Maps.

The Opportunities area has been revamped to  behave like contacts, groups, and companies, which means you can add lots of customized fields and change the Opportunity layout.

There's now "out-of-the-box" integration with Swift Page's e-mail and drip marketing solutions.

There are 9 new dashboards, 13 new reports (created for Sage by Tech Benders!), and a new customizable Reports view.

iCalendar and vCard compatibility so that you can send invitations and contact information to "non-ACT" users right from ACT.
You can learn more about ACT by visiting our ACT Resource Page.