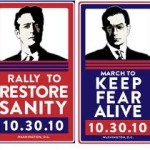 Gary and I attended the Jon Stewart/Stephen Colbert Rally on Saturday.  Frankly, we were motivated more by the incentive of a $19 airfare than any political leanings.  Gary jumped on the cheap fare the night the Rally was announced; we really didn't know what we were getting into.  In fact, it wasn't until we were actually at the Rally that we fully understood the meaning of the Rally.  Being fans of the Daily Show and the Colbert Report we figured at the very least it would be an entertaining day.
One goal of the Rally was to eclipse the reported 85,000 person attendance at the Glen Beck Rally in August.  Unofficial counts showed the Sanity Rally surpassed the 250,000 mark. According to Stewart the rally was for "the majority of Americans, the 70–80 percenters, who don't have extreme political views and lack a voice in the media."
The Rally started with a warm-up band and a couple of comedians who elicited crowd response by creating giant waves.  The day officially started at 1 PM and included brief but well planned appearances by Father Guido Sarducci, Sam Waterston and Kareem Abdul-Jabbar. Music was provided by John Legend, Cat Stevens (or "Joe" as Stewart called him), Ozzy Osbourne, the O'Jays, Sheryl Crow, Kid Rock, and Tony Bennett.  And of course the co-hosts provided a non-stop string of "schtick."  That's a lot of entertainment packed into a 2 hour event!
Stewart presented "sanity" awards to a number of people including Detroit's Armando Galarraga who defended the umpire whose bad call cost him a no-hitter and Jacob Isom who skateboarded past a militant Christian protest leader and snatched a Koran away from him before he could set it on fire.  Colbert presented "fear" awards to a seven year old girl and a "tight black t-shirt" as his way of poking fun at NPR and Anderson Cooper respectively.
Equally entertaining were the great signs and posters carried by a large part of the crowd that aimed not at supporting a particular political ideology but rather poked fun at the upcoming elections and its coverage by the news media. Ironically, the major news outlets deemed the Rally to be a "political" event and pretty much banned coverage on the part of their staff.  Guess there wasn't enough controversy to suit their taste.
All in all it was a great day.  The weather was perfect and the crowd astonishingly mellow.  Attendees came from literally across the country and ranged from toddlers to senior citizens.  It was amazing to see such a diverse population united by their ability to find humor in the stereotypical politician.  Most importantly it was great to know that there are still people out there that can agree to disagree without resorting to name calling, finger pointing and shouting.