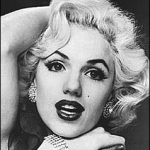 I came across a great post written by fellow ACT consultant M Scott Schaffernoth.  I laughed for ten minutes when I read it and Scott kindly offered to share.
Her Parts May Have Often Been Ditzy Blondes, But Marilyn Monroe Was a Smart Cookie and She Would Have Loved ACT! CRM
It would have helped her to keep track of the correct spelling of people's names (the first time she signed an autograph as "Marilyn Monroe" – she had to ask how to spell her new pseudonym).
It would make it easy for her to remember the unusual, but important details about her contacts, like what food they preferred so she could invite them to the right restaurant (she was the 1947 Miss California Artichoke Queen).
It would have made it a lot easier to track her modeling and film gigs so as to bill the correct amount (her first gig paid the blonde bombshell $5.00 – she was notoriously underpaid throughout her career).
ACT! would have helped her maintain her busy schedule more easily (she was often 2 or 3 hours late to filming).
ACT! is so easy to use, it would be no problem for her to learn it (she was known for having a terrible time attempting to remember her lines when filming – sometimes needing to do as many 60 takes for a scene).
She liked things simple, ACT!'s streamlined design would have fit her true nature (Although she famously sang "Diamonds are a Girl's Best Friend", she actually owned very little expensive jewelry – a diamond ring and a string of pearls, both given to her by Joe DiMaggio).
ACT! would have helped her maintain all of the important connections she had (in addition to starring in movies and other projects, she was only the second woman in history – after Mary Pickford – to have her own production company).