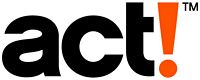 The newest release from the ACT! team, ACT! v17 software, is here and it is better than ever! If you run a business, you need to see what this software will be able to do for you. ACT! 17 makes setting up integrated work flows, sales automations, and nurturing marketing leads easier than ever before.
One of the key areas that users wanted to see improved in the latest software release from ACT! was the ability to shift seamlessly between the marketing and sales operations, and they succeeded. The integration of sales and marketing has never been so seamless. This software can really take your operation to the next level of efficient.
If you are already familiar with the prior versions of ACT! you may be wondering what is new in version 17, and there is quite a lot. Let's explore some of the new features that were put into version 17.
-Improved e-marketing functionalities that strive to fuse the sales and marketing sectors of your operation by automating scheduling of key follow-up activities with your contacts based on your previous interaction with them
-Create your web forms and capture sales leads from newsletters, web pages, and emails. Plus, follow-up on your email campaigns all within the software
-In-depth contact timelines that allow you to prepare and create a unique strategy for every customer you have
-Upload documents and photos to ACT! 17 with ease from other popular business tools such as Dropbox, Sharepoint, or Google Docs, all on the go with your mobile phone
-Fully integrated with Microsoft Outlook so that you can sync your contacts and calendars
The next ACT! is here and it is better than ever! If you haven't tried this software firsthand now is the time. Contact us for more information regarding the latest release from ACT!