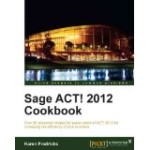 Last year I switched to a new publisher, PackT, after many years of writing the ACT for Dummies books.  My new titles are called "Cookbooks."  Although you won't find a great recipe for lasagne inside you will find dozens of easy-to-follow recipes that will help you master the more advanced areas of ACT.
Packt Publishing is about to publish its 1000th title. Packt would like you to join them in celebrating this milestone with a surprise gift – a free E-Book.  To get involved you just need to have already registered, or sign up for a free Packt account before 30th September 2012.
Although there are a 1000 titles to choose from, you'll probably want to choose either the Sage ACT 2012 Cookbook or the ACT Dashboard and Report Cookbook.
Hurry to register – this is a very short promotion!