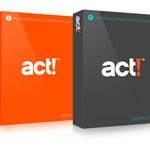 One of the primary purposes of using a system like Act! is being able to learn more about your customers.  This customer data will make your business more successful.  Act! has a variety of tools that you can easily implement to help retain and establish better relationships with your customers. Here are a few of my favorites:
Create good Notes:  If used correctly, your notes can help you to understand each customer's individual needs and help you build better relationship with your customers.  Notes should not include entries like "Called, Left Message" but rather should consist of noteworthy information such as "He is constantly price shopping with other vendors" or "He is an alumnus of UF" or even "He would love to receive his red widgets in a yellow stripped box."
Use your Histories: In Act! a History is created when you send an email, clear a scheduled activity or manually create a History by clicking the History button that is conveniently located on the Global toolbar.  Many Act! users don't realize that as Histories are created Act! works silently in the background updating various system fields included the date of the Last Email, Last Meeting and Last Call.  Armed with this information you can create some useful Dynamic Groups such as "Customers that I haven't called in over 30 days" or "Customers that are due for their yearly review."
Customize a Field:  Act! users love the fact that it is so easy to customize their databases by addition additional fields.  You should be using this capability to reach out to your customers whether it's to send them a birthday card, congratulate them on being a 5 Year Customer, or letting them know that their warranty is about to expire.
Check your Opportunities:  Most Act! users have discovered Act!'s Opportunities feature and love its pipeline capabilities.  However, many users don't use the pipeline as a metric to analyze last year's sales and compare them to this year's sales.  Knowing that a customer spent thousands of dollars with you last year but has not spent a dime with you this year is very powerful information to have.
Act! is a great tool to build and grow your business. By inputting your data correctly, you can easily determine which customers need to be contacted.  More importantly, you will be able to target your customers based on their specific needs rather than using a "one size fits all" approach to your marketing.
If you are interested in learning how to better utilize your Act! database contact the Act! consultants of Tech Benders! We specialize in Act! technical support, Act! database repair, Act! custom reports and discount Act! software.