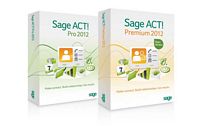 There's a reason why ACT has been around for over 20 years and has over 6 million users world wide.  It's a great product!
In addition to all the great functionality found in ACT 2011, here are some of the brand new features:
Kiss your pen and paper good-bye!  The ACT Scratchpad is a separate program that runs outside of ACT!  You can use it with or without opening ACT!. Use it to quickly jot down impromptu notes, phone numbers, and reminders. Easily sort your notes by dragging them to the desired location, check off items once completed, or print the list.  Best of all, you can send items to ACT! as activities, notes, or histories, and even assign them to contacts.
The new Universal Search tool in Sage ACT! 2012 delivers faster, more expansive search results. Find that key document or piece of info you need in your contacts, groups, companies, opportunities, notes, history, and attachment; filter your search criteria by all dates, last 24 hours, last week, and last month; view search results displayed by relevance and double-click on the item of interest to be taken to that particular field or attachment; and use the back button to view the search results page again.
If you are a Google apps user, you'll love the interaction between ACT! and Gmail™, Google Contacts and Google Calendar. If you send and receive emails from Gmail, ACT! will keep a history of those emails for a complete view of your communications with that contact. Create new contacts in either Google or ACT! and they will appear in both programs, or sync  just a subset of your Sage ACT! contacts with Google.  Sync your ACT! and Google calendars manually or automatically using pre-programmed intervals; choose which ACT! activity types sync to Google and then clear activities from either application.
Access Sage ACT! from anywhere! View your Sage ACT! contacts and calendar from any computer with a web browser, including Internet Explorer, Firefox, Google Chrome—even Safari; access your ACT! database from popular tablets, including the iPad®; sync these same details to your BlackBerry, Windows Mobile, and Android devices for real-time, mobile access; Import Yahoo® and Google contacts; and link Facebook pictures to the contacts you keep.