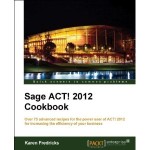 Many of you have been asking me when my next "ACT for Dummies" book is coming out.  I'm pleased to announce that it's here – although maybe not in the same format as you might expect.
Anyone familiar with the publishing industry – or the local bookstore for that matter – knows that the industry has undergone radical changes in the last several years.  For that reason, as well as the fact that ACT is upgraded on a yearly basis, I made the decision to move to another publisher after writing 11 of the For Dummies books.  The new publisher, PackT Publishing, specializes not only in books on computer software but in getting those books to the marketplace quickly so that they will be available to users who are upgrading their software to the latest release.
It was easy for me to transition to the PactT format.  The cookbook format is actually quite similar to the Dummies format; they are designed so that users can find an answer quickly.  They are not meant to be read cover to cover but rather to be used as a reference when needed.
The ACT 2012 Cookbook picks up where the ACT by Sage for Dummies book left off.  The Dummies book covers basic functionality including adding contacts, notes, and activities.  It covers the basics of groups, companies and opportunities and includes interfacing with Microsoft Office products.  The Cookbook compliments the ACT for Dummies book in that it includes a sprinkling of recently added basic functions like the  Welcome page, Scratchpad, Relationships and Secondary contacts.   It also includes more advanced features including the Web Info tab, Smart Tasks and ACT E-Marketing.  It even covers the brand new ACT 2012 Google integration.
The ACT 2012 Cookbook and the ACT by Sage for Dummies books will provide most users with everything they need to know about ACT – and then some.  And, if you are a true ACT power-user, you might be interested in a third book that I've written – the Sage ACT 2011 Dashboard and Report Cookbook.  This book covers the advanced reporting features found in the ACT Reports and Dashboards.