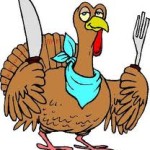 There's always something to be thankful for.
In my personal life I'm thankful that I live in Florida, the weather is absolutely perfect, and for the first time in years I'm not responsible for "the" dinner.  I'm thankful that my daughter has inherited my "shopping" gene and will actually accompany me to the mall on Friday and that I have lots of great activities planned for the weekend.
In my business life I'm thankful that business is great, I work with a lot of really neat clients, I'm on the home stretch of my latest two books on ACT! and I continue to use ACT! to make me super efficient – which means I have more time to enjoy my personal life!
In the ACT! realm I'm happy that Sage just released ACT! 2011 Service Pack 1 (SP1).
Most of us are already familiar with the term "bug." The official definition of bug is "an error or defect in software or hardware that causes a program to malfunction. Unofficially a bug is what causes computer users everywhere to pull out their hair and threaten to take a hammer to their hardware.
Software developers release "service patches" or "hot fixes" aimed at fixing bugs. Over a period of time the developer may release several "patches" and also a few enhancements to make the software even better.  All these goodies are rolled into a "service pack."
The bottom line to you, the consumer, is that when you buy a piece of software the "patches and packs" come to you free of charge – and will hopefully kill, maim and destroy any bugs that might be in the software.
If you're using ACT! 2011 you'll want to download and install Service Pack 1.  It fixes a number of small but annoying bugs such as the inability to click the Create Lookup button in the keyword search dialog box or include a checkbox field in the Contact List.  It also add a couple of nice enhancements including more Smart Task timing options and improved Outlook synchronization performance.
You can click here for the download site and installation instructions and to read about all the fixes and enhancements.  If you're running ACT on a shared environment you'll want to apply the Service Pack to the server first and update the database prior to updating the individual work stations.
Best wishes for a wonderful "bug free" Thanksgiving Day!