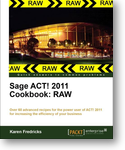 I am thrilled to announce that my two latest books have been selected by Packt  Publishing for inclusion in their R.A.W. (Read As We Write) program.  The two books, ACT! by Sage 2011 Cookbook and ACT! by Sage Reports and Dashboards Cookbook, are designed to provide step-by-step instructions so that you can master ACT as quickly and efficiently as possible.
The RAW program is an innovative publishing concept that allows buyers to download each chapter as completed by the author before full editing has taken place. When the book has been completed and is ready for printing, the buyer can download the final version of the eBook. Buyers of RAW books can also pre-order the printed version and receive discounts as part of the RAW bundled offer.
RAW books are particularly appropriate for new software releases because users need immediate solutions to their problems and cannot wait the approximately nine months required for traditional books to come to market. It's an ideal method of presenting ACT! because each new version includes lots of major enhancements and ACT users want to learn about them immediately.
You can learn more about the two ACT Cookbooks at https://www.packtpub.com/authors/profiles/karen-fredricks.  Just remember though – they're still a bit RAW!