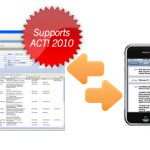 You use ACT.  You've got a smart phone.  And you want to link the two together!  Companion Link is the product you need.  CompanionLink will synchronize your ACT! data with your phone or with other supported applications and web-based services (like Microsoft Outlook or Google).
By using a Google or "Gmail" account with CompanionLink, you can get a free, wireless sync between ACT! and BlackBerry, Android, iPhone, iPad, Windows Mobile, and Palm devices.  Best of all, when you purchase a new phone all you have to do is load in the Google app and all your contacts will immediately transfer to your new device.  How cool is that?
CompanionLink Express
This product has all the basic features you need for two-way synchronization between ACT and your mobile phone. CompanionLink Pro includes additional options such as Auto Synchronization, the ability to sync wirelessly using CompanionLink's wireless sync service, and other advanced settings.
Companion Link Pro
This product allows your to synchronize between multiple databases and your mobile phone. For example, you may keep your personal contacts in Outlook and your business contacts in ACT. Or maybe you have two ACT databases.  If that's the case, this product is for you!