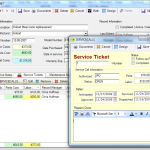 Many Act! software users get confused with the distinction between Act! fields and Act! tables. In Act!, a field is a single piece of information such as a zip code, e-mail address or phone number. A table is a set of records. For example, Act!'s Contact table allows you to add multiple contacts to Act!, and Act!'s Notes table allows you to add multiple notes to a single contact.
Many new (and existing!) Act! users love the fact that it is so easy to customize Act! to make it an exact fit for their company. These users go about creating new fields. For example, you can easily add a set of fields for the shipping address or for a contact's territory. These are examples of what I call a finite set of fields; a contact would only have a single shipping address or territory.
Many Act! users get into trouble when they have the need to develop infinite fields. For example, a financial planner may need to log multiple investment and bank accounts; some of their clients may have multiple policies and others may have none. Or a manufacturer may have sold a customer multiple products and needs to track part, service and warranty information for each product. The problem is that you don't know if you should create 5, 10 or 15 fields for the various accounts or products. The problem gets further compounded when you need to search for a specific piece of information; you might have to query across 5, 10 or 15 fields!
By creating a custom act table you are in essence creating a custom Act! module to expand the power of your Act! database. In addition to the scenarios mentioned above you might create an Act! table to track customer service incidents, ticket sales, donations or attended events.
If you're interested in expanding your Act! database to include a custom Act! table, or want to discuss whether or not an Act! table would be a good solution for your business please give us a call or drop us an e-mail. The Act! consultants at Tech Benders are here to help you with your Act! questions!