Now you can combine your two most powerful customer contact business tools – your phone system and your ACT! Customer Relationship Management software .
How the ACT Dialer Works
Click to Dial:  When you install Call Monitor an icon is placed next to every phone number in your Act database.  Simply click it to place your outbound call.

Inbound Calls:  The Contact Detail record of the corresponding contact will automatically open when you receive a phone call from a number that is located anywhere within Act!  If two contacts match the number you will be given a choice of contacts.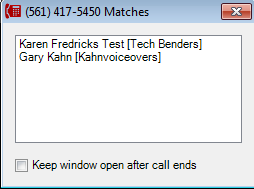 Tracking Multiple Calls:  If you receive or make calls simultaneously Call Monitor will give you a list of all phone calls.  You can discard an item by clicking the X, or open the History window by clicking on one of the calls.

Recording Histories:  Call Monitor automatically populates details of the call including the call duration.  You can add details or associates the call with additional Act! records.  When you're finished click OK and the Act! history record will be created.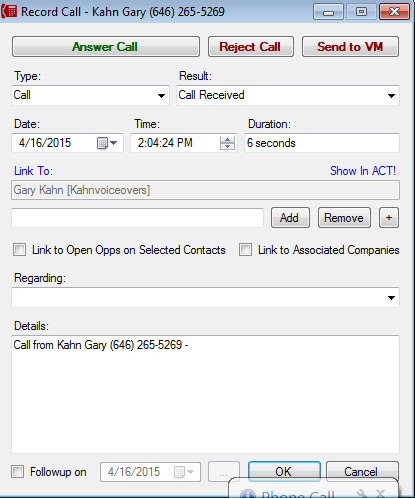 <Click Here> to purchase Call Monitor
Ready to purchase?  Send me an email!