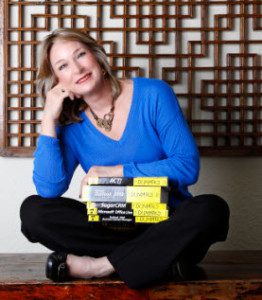 As with any type of software, the key to using Act! successfully is finding an Act! consultant who can help you to meet your needs, teach you how to use the software effectively, and who will be there to help you when you run into trouble or have questions. Our Act Consulting Services go beyond that of a typical Certified Act! Consultant.  We've written five books on Act!, our support staff consists of former Sage employees and we are one of six authorized Act! database repair centers world-wide.
Support & Training:
Act! Mobile Device Support

Remote Office Solutions

Act Troubleshooting

Custom Act! Design

Act! E-Marketing Solutions
Act! Consulting Services from the Act! Experts
Act! Sales Automation: Work with the person who wrote five books on Act!.  The author of ten books on CRM and contact management, Karen Fredricks specializes in transforming a database into a sales and marketing machine.  Watch your bottom line improve through the proper use of a good marketing strategy and sales process. Karen can be reached via e-mail or at 561-470-5450, Ext 1.
Act! Reports & Labels:Work with the person that Sage turns to for help with the Act! Reports.  If you are in need of a specific Act! report look no farther.  Roy Laudenslager ("Royel").  Roy is without a doubt the foremost authority on Act! reports anywhere.  He specializes in the Act! Report Writer rather than relying on third party reporting software.  If a report can be created in Act!, Roy knows how to create it!  Roy can be reached via e-mail or at 561-470-5450, Ext 3.
Act! Database Repair & Act! Password Recovery: Work with the person Sage uses to repair databases that they can't fix.  Upgrading to a newer version of Act!?  Is your "old" database causing "new" problems?  Kim Winton performed database repair for Symantec and then for Sage Software – she has brought her tools with her and there is no one better equipped to fix a database then Kim! Click here to send a database repair request to Kim. Kim can be reached via e-mail or 561-470-5450, Ext 2.